September 29, 2009 at 11:59
AM
by Alexandra Zissu |
This organic mom has too much to read – newspaper and magazine articles, blogs, books, studies, listservs, emails etc. etc. etc. – and far too little time on her hands to read it all. But now that the organic preschooler is ensconced in school during the mornings, and my next manuscript is (basically) done, I'm taking a moment to do some reading to go with my writing.
The first book on my pile is Deeply Rooted: Unconventional Farmers in the Age of Agribusiness by Lisa M. Hamilton. It's not technically a parenting book but I think being mindful and smart about food is one of the most crucial things any parent can do. Hamilton's book, as the title suggests, falls squarely into the sustainable realm. (Full disclosure: Lisa wrote an essay for my book,  The Complete Organic Pregnancy. Though I have yet to meet her in person, she's a friend of my co-author, Deirdre Dolan.) It is not a light book about how growing tomatoes in your back yard is a good idea, but rather a real book -- sometimes gritty -- about real American farms and farmers who are doing things a little bit differently at a moment when most farmers are not.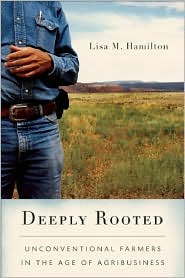 Whether you're someone -- like me -- who spends a lot of time thinking about where your food comes from or someone who has yet to consider this crucial question, or fall somewhere in the middle, Deeply Rooted is a must read. Hamilton follows three unconventional farmers and their families, telling their (complete) stories in her pages. Their farms are not the small, popular kind that seem to pop up in the Style sections of big coastal city newspapers (New York, Los Angeles, San Francisco) of late, celebrity-chef style. (Not that there is anything wrong with those! It takes all kinds! Those are the kind that feed my family!) Instead, Hamilton treks to Sulpher Springs, Texas; Abiquiu, New Mexico; and LaMoure, North Dakota. She retells three farmers' longstanding somewhat difficult histories like a ghostwriter but also inserts and weaves herself into their stories -- tasting hours-old milk while eyeing the cow it came from in unpristine (i.e. real) surroundings, and stuffing herself with raspberries as she interviews. She writes starkly about farming and ranching economics, race, culture, and language. She tackles the divide between environmentalists and the people actually working the land. She lays out the importance of grass-feeding, the issues with GMOs, and reexplains almost to the point of reclaiming what organic (should) actually means. And she manages to -- fittingly -- make the earth a character in the book. Landscape descriptions abound, but are too often seen through a car window. Even as I read a non-parenting book, I still had family on the brain. A kid does pop up in the pages on her North Dakota farmers, and Hamilton comments on how eating three meals a day at his family table means he's far from picky, prefers real, whole food, and he (usually) cleans his plate. I'm not spoiling any more plot here – get it and read it! 
Hamilton lives in Northern California but has been doing readings and talks in various places around the country since the book came out in May. Check to see if she's reading near you. If you happen to be in or around New York City this week, I urge you to head to one of two events featuring her. On September 29th, at 6:30 p.m., she'll be at Savoy Restaurant reading and talking with unconventional farmer Annie Novak of NYC's Rooftop Farms (70 Prince Street; $40. For reservations and information 212/219-8570 or SavoyNYC.com.)
On September 30th at 7 p.m., she will be at McNally Jackson Books moderating a panel discussion entitled "The Changing Role of American Farmers." Hamilton emailed me the following description:
"Over the past decade, our relationship to food and how it's grown has transformed. But what about our relationship to the people who grow it? There is hope in the legions of new, young, and urban farmers cropping up around the United States, and yet overall, our country's agricultural community is shrinking by the day. How is the role of farmers in our society and in our lives shifting? And what still needs to change? Moderator Lisa Hamilton will be joined by organic pioneer Fred Kirschenmann, a Distinguished Fellow at the Leopold Center for Sustainable Agriculture at Iowa State University and President of Stone Barns Center for Food and Agriculture in Pocantico Hills, New York; the New York Times' Verlyn Klinkenborg, author of "The Rural Life"; and New York farmer Mary-Howell Martens." The book store is at 52 Prince Street, attendance is free. For more information: 212/274-1160 or McNallyJackson.com
I already have my babysitter lined up (ok, it's her dad) so I can be there on the 30th. Join me and tell me what else I should be reading!