By Dan Shapley
The Center for Biological Diversity is publicizing a new video of polar bear cubs and their mom, all struggling to live in the Arctic this winter after a near-record summer Arctic sea ice melt, and a slow re-freezing this fall. In September, Arctic sea ice was at the third-lowest extent ever recorded. November finished with the second-lowest ice extent ever recorded for the month, as warmer-than-usual temperatures prevented the rapid refreezing of Arctic sea ice that polar bears need to expand their hunting and feeding grounds.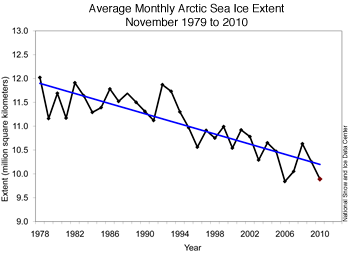 Chart showing extent of Arctic sea ice in November, 1979-2010 (National Snow and Ice Data Center)
For polar bears like those in this video – and for other Arctic species, like Pacific walrus and ribbon seals – ice is a matter of life and death. Both polar bear cubs in this video died within two days of the filming. While one can't blame climate change for their deaths, their deaths are consistent with the expectations for what will happen to so many polar bears that they are now considered a threatened species under the Endangered Species Act.


A Warming Climate Takes its Toll on the Polar Bears of Hudson Bay. from Daniel J. Cox on Vimeo.