June 27, 2011 at 10:20
AM
by Jim DiPeso |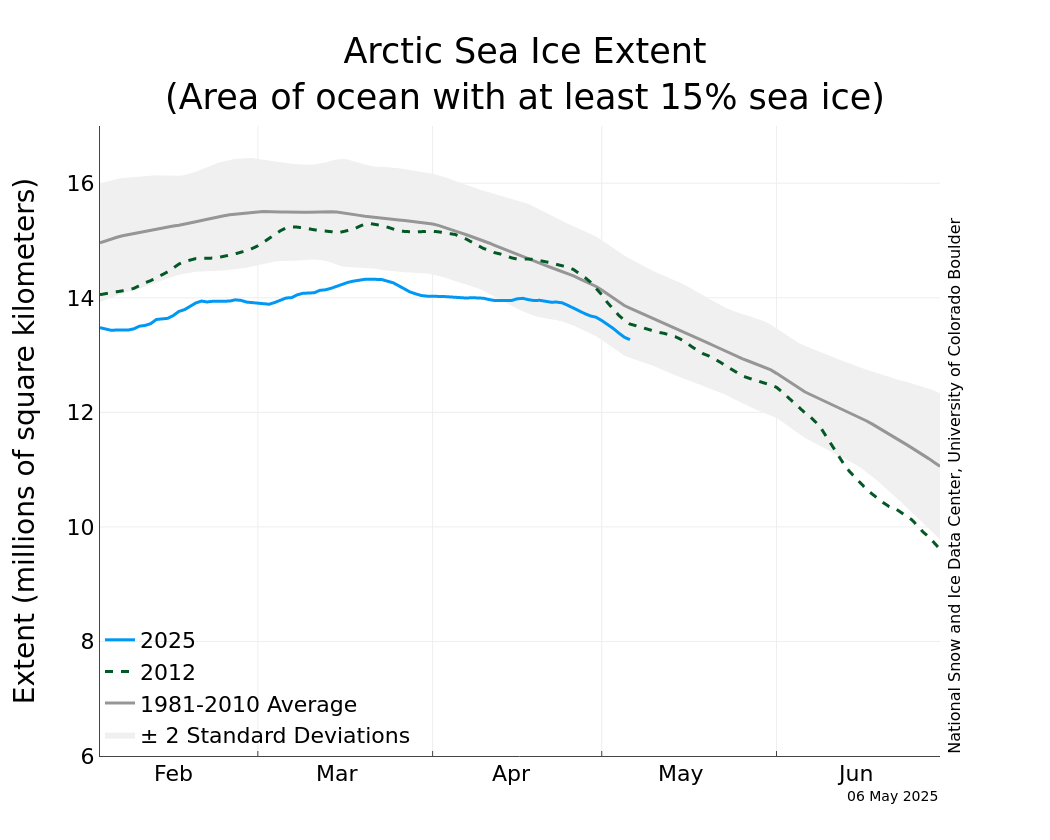 As sea ice recedes in the Arctic Ocean, more eyes are turning to the top of the world. Oil and gas companies are attracted to the bounty of hydrocarbons thought to lie beneath the remote seabed. Countries that have Arctic oceanfront property — and at least one, China, that doesn't — are jostling to assert their interests, stake claims, and make certain that boodles to be made from resource extraction benefit the home team.
Last Thursday, the U.S. Geological Survey issued a thick report laying out what we know and don't know about the Arctic's energy resources, how climate change might play out in the polar region, and capabilities for responding to an oil spill in an environment that is radically different from the subtropical Gulf of Mexico.
The report pointed to numerous knowledge gaps, some wider than others. Those gaps argue against a pell-mell rush to wide-open drilling in the Arctic Ocean before we have a good handle on the risks that industrialization would pose and before we are capable of responding to spills and accidents.
Today, we aren't. Coast Guard Commandant Robert Papp said as much at a June 20 symposium. "We are not capable of conducting a response," he said.
What's known with a reasonable degree of certainty is that it's getting warmer up north and the warming trend is likely to continue. Like a stone dropped into a pond, higher temperatures will cause ripple effects throughout the Arctic. It's not known with precision what splashes those ripples will create. The behavior of pack ice might be less predictable, increasing the risk of accidents and spills. There might be increased frequency and intensity of autumn and winter storms.
Another critical uncertainty involves oil. The question covers both volume and pressure, because those issues have direct bearing on characterizing the risks of a spill occurring, planning for cleanup, and demonstrating response capability for when, not if, a spill occurs. As was evident with last year's Deepwater Horizon disaster, wells drilled in high-pressure oilfields are like hard-to-control bucking broncos.
Other unknowns bear on risk and spill planning. How does water circulate on the Arctic Outer Continental Shelf? How do winds and freshwater inflows push seawater and ice around? Modeling based on the Gulf of Mexico is of limited value in the Arctic.
There is an unsettled institutional issue. How will information gathered by industry, agencies, and academics be interpreted and how will it inform agency decision-making? And will Congress pay adequate attention to caution flags that research throws up?
None of these questions have been answered. Yet the political rush to drill is in danger of outpacing capability to manage the risks. The Coast Guard has no surface ships stationed in the Arctic that are capable of operating in the harsh polar environment. It doesn't have an air station on Alaska's North Slope. There is no pre-staged response equipment. There is no place to house all of the people who would be needed on the scene of a spill.
"If we had to mount a large-scale response in the Arctic, this logistical challenge would pose a significant obstacle," Commandant Papp said. "There is no way we could deploy several thousand people like we recently did in the BP Deepwater Horizon response."
And until a proven response capability can be deployed, Congress should back off the political pressure to throw caution to the wind.